Viral
Willie Garson: Sex and the City actors remember late co-star
Stars from Sex and the City have paid tribute to the late Willie Garson, who appeared with them in the HBO series as talent agent Stanford Blatch.
Kim Cattrall said the actor's death at the age of 57 was "a terribly sad loss to the SATC family".
Cattrall 's former co-star Cynthia Nixon also paid tribute, remembering him on Twitter as "a source of light, friendship and show business lore".
Ben Stiller, Jason Alexander and other actors have also posted messages.
Stiller said Garson had been "strong and respected in his community of fellow actors", while Seinfeld star Alexander remembered him as "a dear, funny, kind man and delightful actor".
In Sex and the City, Garson played a close friend and confidante of Sarah Jessica Parker's Carrie Bradshaw, a role he had recently been reprising in the spin-off series And Just Like That.
He also appeared in the show's two feature films, while his other roles included the conman Mozzie in the TV series White Collar.
Nixon – Miranda Hobbes in Sex and the City – said she was "deeply, deeply sad" to have lost such "a consummate professional".
"We all loved him and adored working with him," she wrote on Twitter. "He was endlessly funny on-screen and in real life."
So deeply, deeply sad we have lost @WillieGarson. We all loved him and adored working with him. He was endlessly funny on-screen and and in real life. He was a source of light, friendship and show business lore. He was a consummate professional— always. pic.twitter.com/G63EJIj8lG— Cynthia Nixon (@CynthiaNixon) September 22, 2021.
The BBC is not responsible for the content of external sites.View original tweet on Twitter
Cattrall, who appeared in the Sex and the City series and films as Samantha Jones, posted a photo of herself with "dear Willie" in her Twitter tribute.
The actor was described as "a gift from the gods" by Mario Cantone, who played Garson's on-screen partner Anthony Marentino in the show.
He was also remembered by Evan Handler, aka Harry Goldenblatt, as "a prince, the Mayor of every group he existed within [and] a consummate funny man."
Born William Garson Paszamant in New Jersey in 1964, Garson studied theatre and received a masters of fine arts from Yale School of Drama.
He then took on small roles in several popular television series in the 1980s, including Cheers, Family Ties and LA Law.
Garson went on to appear in such 1990s shows as The X-Files, Boy Meets World and Friends before making his Sex and the City debut in 1998.
His film credits include Groundhog Day, There's Something About Mary and Fever Pitch, the 2005 US adaptation of Nick Hornby's football-based novel.
The cause of his death has not been disclosed.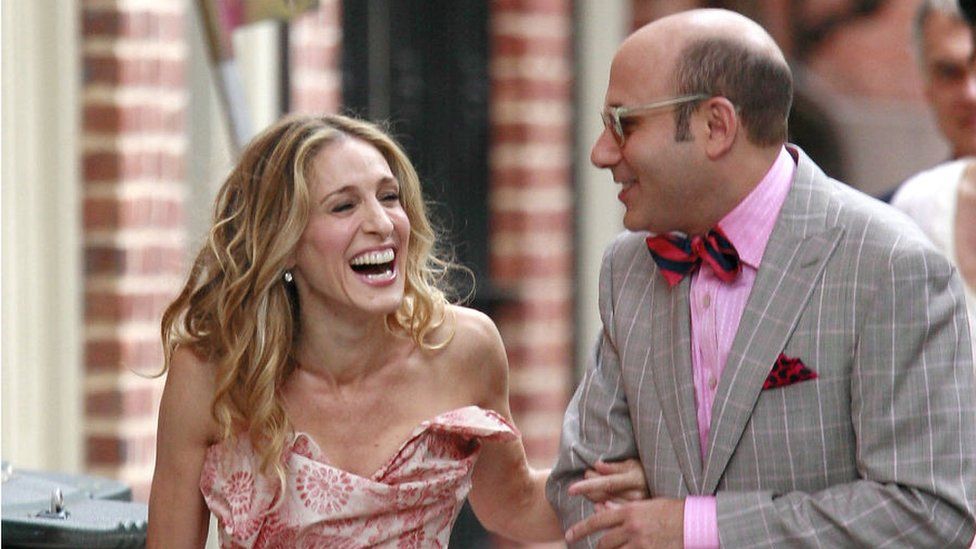 Michael Patrick King, the executive producer of Sex and the City and its spin-off, said Garson had been working "even while he was sick".
"His spirit and his dedication to his craft was present every day," he said in a statement. "His multitude of gifts as an actor and person will be missed by everyone."
Garson was a strong advocate for adoption. His son Nathen, whom he adopted in 2009, said he had been "so proud" of his father on Instagram.
"I'm so glad you got to share all your adventures with me and were able to accomplish so much," he said. "I will always love you, but I think it's time for you to go on an adventure of your own."
Actor Matt Bomer, who appeared with Garson in White Collar, said he would love his former co-star forever, adding: "Rest in peace my friend."
Writer and producer Bryan Fuller also paid tribute, saying it had been "a delight" to work with the actor on his 2000s TV series Pushing Daisies.